Select the best that suits you !
The beautiful three floors Villa Mariva offers four apartments for rent, each with a private entrance and a view at sea.
You can choose the apartments that have own spacious terrace from where you can enjoy your morning coffee, look at the sunrise or enjoy your evening drink with a romantic view at the sunset above the bay. 
Or you can choose the apartments with direct access to the swimming pool with all the convenience, such as luxurious deck chairs for sunbathing and an outdoor shower to refresh during hot summer days. 
Whichever accommodation you choose, due to its location, Villa Mariva offers a perfect escape from the crowd and a peaceful and relaxing place for retrieval. All the apartments are designed to provide a pleasant and memorable stay for families with and without children. Nicely designed and equipped apartments assure you to have a carefree and unforgettable vacation and stay in Croatia.
All guests can unlimitedly make use of the WiFi, swimming pool and all other available entertainment facilities like the pool table, a dartboard, a tennis table and a basket. Next to this, the outdoor facilities include a barbecue which can be used freely.
Our aim is to make your stay at Villa Mariva as pleasent and relax as possible.
"Master" - Apartment for 6-8 persons
The "Master" is with its 120 square meter floor size and 70 square meter terrace the flagship of the villa. With a breathtaking view, it offers facilities for up to 8 persons. It's location is at first level and has its own entrance. Full privacy, whilst it will only take a few steps downstairs to the swimming pool.  
Inside the apartment, there are 3 sleeping rooms, a large bathroom, 50 square meters living room, fully equipped kitchen, dining table for 8, extra toilet, laundry room and the scullery.
"Ivana" - Apartment for 4 person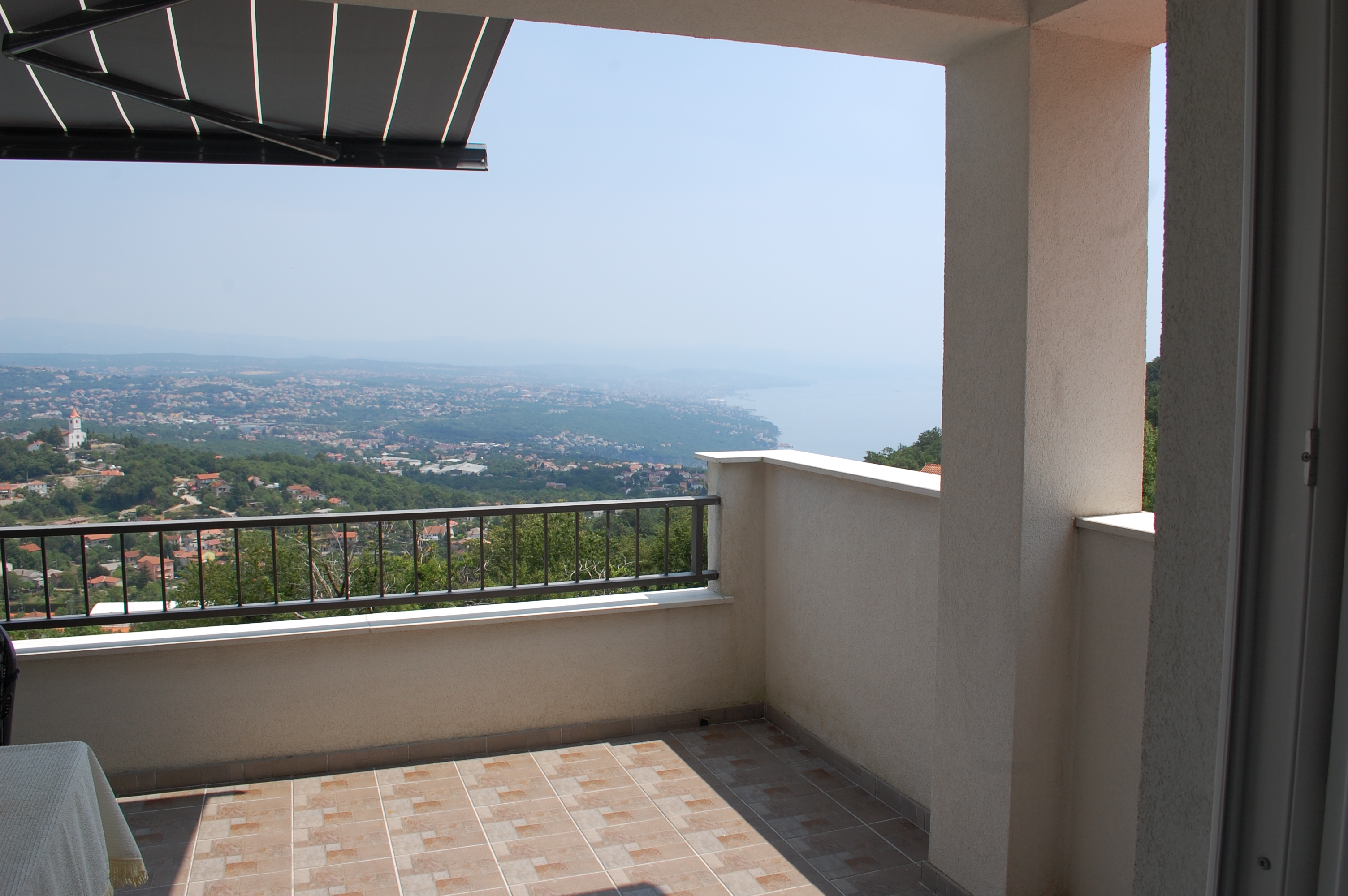 Apartment "Ivana" is located on the second floor, with large (20 square meter) terrace facing to south offering you the breathtaking view over Kvarner bay, city of Rijeka and the hills of Nature Park Risnjak in the distance.
Size of this apartment is 54 square meter and with 2 sleeping rooms offers place to 4 persons. One sleeping room has a large 2-person bed whilst the second room is equipped with two 1-person beds. Next to that you will find bathroom, living room and the kitchen. The terrace is accessible through large doors from the living room as well as from the kitchen. The living room offers various sitting places. The kitchen and the bathroom are fully equipped, like all other apartments offered by Villa Mariva
"Pool" - Apartment for 4 persons
The "Pool" apartment is located at ground level with its terrace connected to swimming pool terrace. The size of this apartment is 54 square meters and is suitable to host 4 guests in 2 bedrooms, one of them with large 2-persons bed and second one with two 1-person beds. 
The living room offers much space. There is a dining table for up to 5 persons. The fully equipped kitchen includes a dishwasher, coffee machine, microwave and all other necessary kitchenware.
The bathroom includes a washing machine. Moreover, there is an iron and ironing board etc. 
This apartment is easy accessible for people with limited mobility.